Maren Morris Found Her 2016 CMA Award Speech Notecard: See The Photo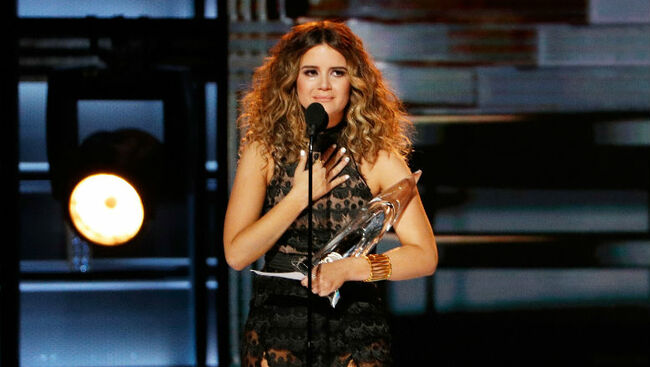 Maren Morris took a trip down memory lane on Tuesday (August 14) when the country titan discovered the notecard that she used during her Best New Artist acceptance speech at the 2016 CMA Awards and shared the relic via Instagram.
On the notecard, Morris created a small guideline of points that she wanted to incorporate in her speech, including how she watched the 2015 CMAs at a bar and never dreamed she'd be in the place that she is in now. She also jotted down reminders to thank her family, husband Ryan Hurd and industry professionals. "Ryan just found this cleaning out his truck. My notecard from when I won Best New Artist at the CMAs," the 28-year-old captioned a shot of her holding the notecard. "I thought I lost it but it luckily survived the last 2 years. I'm proud I pretty much read all of it before my tears gave way."
During the 2016 affair, Morris took to the podium and was almost in disbelief while holding the coveted trophy. "Y'all ... I can't win this award right after performing. I'm gonna fall apart," she admitted. "This is so crazy. So, last year I sat across the street at a bar and watched this show. I never thought as a songwriter I'd be standing here today. Thank you so much for voting for me." Scroll on below to relive Morris' speech!