Dolly Parton Gets Award Named After Her, Becomes Its First Recipient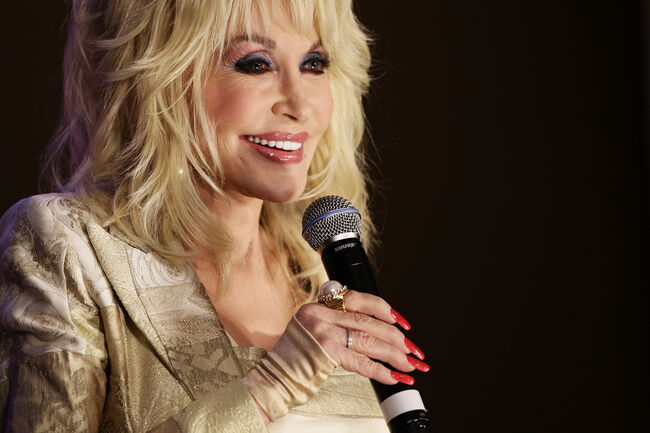 On Saturday (August 11), Dolly Parton was presented with the first ever Dolly Parton Excellence in Leadership Award. She received the honor at the Country Music Hall of Fame by Leadership Tennessee for "her selfless work to improve lives across Tennessee."
The country star is known for her philanthropy, both in her home state of Tennessee and around the world. In 2016, Parton's Emmy-winning "Smoky Mountains Rise" telethon raised more the $12.5 million for her My People Fund, which benefitted victims of the Gatlinburg wildfires. She also launched the Imagination Library in 1995, which mails free books to children from birth until they begin school, no matter their family's income. Since its inception, the library has donated more than 100 million books to children in five different countries on three different continents.
"My dream was to make as many people happy as I could in this life, and I am grateful to Leadership Tennessee and First Lady Crissy Haslam for recognizing our work done to improve the lives of all Tennesseans," the 72-year-old said about receiving the award. "Even more humbling is for decades to come the future leaders of Tennessee will receive an award with the Parton family name attached to it, and for that I am truly honored and thankful."
"Tennessee has many talented sons and daughters, but there are few who are as beloved as Dolly Parton," First Lady Crissy Haslam gushed. "And while she may be most known for her music, she has undoubtedly proved to be an exemplar of leadership through her generosity, humility, inclusiveness, expertise, and passion. As a state, we are indebted to all that Dolly has done for Tennessee and its people; there is no one better suited for the very first Excellence in Leadership Award."
This isn't the only award the icon has been honored with recently. In June, it was announced that Parton, Linda Ronstadt and Emmylou Harris will receive a star on the Hollywood Walk of Fame for their collaborative album Trio. This feat makes Parton the first woman in history to have two stars on the Walk of Fame—she received her first in 1984 for her solo work.
Photo: Getty Images